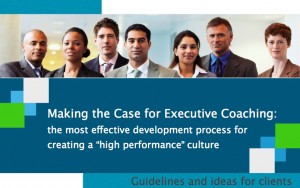 This document is © Creative Commons Licence 2014 (Given by Jayne Warrilow International LLC)  Produced by permission & © InnoChan Solutions 2014
Introduction
Executive's are under increasing pressure to deliver bigger and better results, to lead their organisations through complex and ambiguous change. They are expected to anticipate the needs of customers, manage remote teams, secure competitive advantage – and do it all better, cheaper and faster than before.
Organisations are depending on their key leadership talent to lead them into a successful future. And it's no small ask. The road to success contains more hazards than before; invisible pressures that pull many well educated and talented leaders back from fulfilling their potential.
Leaders need to sharpen their leadership and evolve at a faster rate than ever before; they need individualised development and support that can enable a quality of thinking and action that keeps them at the top of their game. A unique combination of leadership skills, strategic planning and personal growth.
What they need is an Executive Coach.
What is Executive Coaching?
Firstly, let us define the process of executive coaching itself, as an integrated development process which helps individuals to grow through the setting and achievement of goals. Goals in which they believe passionately, both personally and professionally. It is then about tapping into the individual's unique experience, talents, and wisdom, coaxing out improvements, be it a new product, a new way of doing business, or a new way of interacting with and leading others. Simply put, coaching enables the individual to fulfil their potential, and a coaching culture enables the organisation to do the same.
Coaching is extremely relevant to executives and leaders within a wide range of organisations. An executive coach brings out the best in people, challenging them to grow, to search for new answers and perspectives. They can be invaluable in giving clear, objective feedback and offering distinctions that the executive cannot see for themselves. Executive coaches develop business leaders by observing them, guiding them into new practices, highlighting habits, encouraging them to improve and enabling them to excel in areas they may not have even thought possible.
Executive coaching drives a culture of high engagement and positively focused energy throughout the organisation. The process itself enables individuals to step back from the routines of their daily activity and identify new solutions to those insurmountable problems which can often be challenging to even acknowledge. It develops powerful leadership within organisations promoting a constantly evolving and dynamic culture where learning and development is embraced as the norm, and all individuals understand and actively engage in their contribution to achieving the organisation's goals.
Reasons for Investing in Executive Coaching
There is only one valid reason for investing in executive coaching for your organisation – to support your business strategy and objectives. That's it. Anything else can mean the difference between a worthwhile investment with a strong ROI and a frivolous expense that only succeeded in wasting time and money.
Unfortunately many organisations seem to miss this critical point as many poor reasons for investing in coaching are still around:
"Our competitors have coaching programs so we thought we should get one"
"We need to free our managers from dealing with difficult employees"
"We have a few managers who need therapy and help with their personal problems"
"We want to reward our talent"
"Our business leaders are frustrated and need to talk it out with someone"
Executive coaching is not therapy, counselling or a substitute for effective management. However, when aligned, designed and implemented effectively, executive coaching offers a viable solution for a number of issues across business functions.
Many issues arise within organisations that can negatively impact both individual, leadership and organisational performance; Mergers and acquisitions, restructuring, critical skills shortages, individual transitions like relocations or promotions and of course, the one constant in all business – change. It is in these situations that the right combination of individual coaching, group/team coaching and coaching skills training for managers forms part of an integrated and effective development solution.
Who is Investing in Executive Coaching?
The use of executive coaching is widely reported to be growing rapidly. Coaching is now used by many of world's most admired corporations, from GE to Goldman Sachs.
Annual spending on coaching for individuals and corporations in the US is estimated at roughly 1 billion dollars.  it is the second fastest growing industry across the world, second only to technology.
95% of organisations that use coaching have increased their utilisation of coaching over the past five years and not one of them have decreased their annual investment suggesting that they have found increasing value over time.
In a 2004 survey by Right Management consultants, 86 percent of companies said they used coaching to sharpen skills of individuals who have been identified as future organisational leaders. When asked for a conservative estimate of monetary payoff from coaching they got…managers described an average return of 500 – 700 percent of what the coaching had cost their companies.
Coaching Agendas
Coaching provides solutions for a variety of different business issues:
Executive development.

Promote a safe and efficient environment for senior business leaders to explore and address key development areas as individuals and/or to enhance the quality of leadership/teamwork in the senior executive team. Develop a powerful and strategic approach to the integration of people, culture and business objectives.

Succession planning.

 

Accelerate the readiness of potential talent through one on one or group coaching. This could be part of a high potential or fast track program that might also include leadership skills development, mentoring, cross cultural assignments and other learning interventions. Also equip managers with coaching skills to enable a focus on development with their direct reports, to identify and retain talent throughout the organisation.

Strategic change. 

Major transformations will require supportive people strategies that inspire engagement and/or changes in behaviour to meet the performance targets. Barriers to performance can be addressed through one on one or group coaching, to convert stakeholders into change champions that accelerate the pace of transition. Managers can also be provided with the coaching skills to be bale to help employees cope with the changes and identify solutions.

Workforce planning. 

Increase employee retention and promote diversity by offering coaching to underrepresented groups. Improve engagement and employee satisfaction in those hard to fill positions.

Capability gaps. 

Build necessary skills identified by assessments, peer feedback, poor performance through one on one or group coaching.

Transition support. 

Provide assistance to individuals who are moving through critical career transitions (promotions, new functions, first global role, new responsibilities/function). Coaching can be used to effectively shorten the learning curve in new positions. It is particularly useful in reducing the number of failed international assignments, increasing employee satisfaction, decreasing stress, improving productivity and retention.

Learning & development strategy. 

Provide integrated development solutions that use coaching to hold individuals accountable for meaningful and sustained behaviour change. Offer follow up coaching solutions to leadership development activities, including stretch assignments and use coaching to shift the focus of development from the workshop to on the job. 
Benefits of Investing in Executive Coaching
Executive coaching provides many different levels of value to both the individuals involved and the organisation as a whole. A clearly defined return on investment should be defined early in the process.
Our clients report the following benefits:
Increased profitability
Increased employee engagement
Improved retention rates
Increased sense of community
Decreased employee absences
Increased job satisfaction
Improved morale
More opportunities for collaboration
Improved levels of trust and openness
Higher levels of innovation and employee suggestions
Improved levels of teamwork
Improved performance across the organisation
Better levels of customer service
Increased sales
Improved communication
Improved perceptions of the Senior Executive Team (both internally and externally) including retention of the bench strength of the Senior Leadership team
Improved capability of individuals to execute strategy
Improved strategic alignment
Common Challenges to Executive Coaching
It is always best to identify potential challenges and obstacles so that particular attention can be paid to addressing and overcoming challenges as they arise.
The business benefits and ROI are not clear for executive coaching. 

Recent research suggests that many organisations struggle to identify clear ways to demonstrate the business value of coaching and identifying how coaching outcomes link to business outcomes. This is essential to highlight the effectiveness of your coaching implementation. Leadership teams that set the purpose, expectations and outcomes for coaching may consider the next step of developing an evaluation strategy to measure and better manage the culture-change process. This strategy should include business metrics and analysis to demonstrate the return on the investment in the culture-change effort.

Challenge of global. 

Building the capacity to develop a worldwide authentic, multicultural approach to coaching that is totally respectful of diversity in all its shapes, formats and colors. This challenge is only met through a real capacity to communicate and actively collaborate with international partners who empower connection to the common thread of humanity throughout.

Defining a clear approach to developing business leaders. 

The approach to leadership needs to be clearly defined and communicated across the entire organisation so that people can understand what is expected in terms of leadership. Clarity helps to  shift the culture from management to leadership, where leadership is embraced through all levels of the organisation.

Senior Leadership does not "walk the talk."

  

Senior leaders set the tone for leadership within an organisation. If their leadership does not embrace coaching in action, as well as their words, then a lack of trust will be prevalent within the organisation. Senior Leaders are the role models who must embody and truly integrate a coaching approach into their leadership style in order for others in the organisation to accept and embrace coaching as an integral part of their culture.

Lack of time and resources. 

Time is a key resource within most organisations and with the increasing pressure placed upon performance it can be challenging for managers to set time aside for learning, delivery of training or to receive coaching. In part, this lack of time may reflect a culture where learning and coaching are not a top priority. Setting the course for creating a positive approach to coaching and explicitly making the links to the business will likely shift priorities and increase the time for learning.

Individuals need to be held accountable for their performance. 

This is an organisation wide issue, and is not merely confined to coaching. It needs to be addressed to improve levels of personal responsibility, general personal and business performance. One way of addressing the accountability issue is by linking coaching outcomes to business outcomes and evaluating progress on these outcomes. Assigning clear responsibilities for achieving these outcomes and periodically tracking the progress will reinforce the accountabilities for success and build momentum in a positive direction.

Coaching is not perceived in a positive light in the organisation. 

Although we do not come across this challenge very often it still represents a barrier for some organisations. This may be due in part to the fact that, in some organisations, coaching is mainly used for derailing leaders and managers. In these organisations it may be that being identified as a candidate for coaching suggests that a serious performance issue has been detected.

Is coaching right for your organisation? 

We live in an era of increased competition, tight budgets, smaller profit margins, downsized workforces and increasing stakeholder expectations. Many employees are struggling to achieve the goals of the organisation whilst operating with fewer resources. This reality has forced executives to seek out more innovative methods of creating an edge that will help them fulfill their potential and deliver success against the organisational goals, successfully navigating the very thin line between success and failure. Many organisations are finding that an investment in Executive Coaching is the difference that enables them to build and maintain a culture of excellence.
How to Use Executive Coaching in your Organisation:
Executive Coaching is often thought of a service which is provided face to face to individuals, however the growth of technology means that most coaching assignments now take place remotely using the telephone and internet as service providers. Increasingly, organisations are also adopting group/team coaching processes to both reduce costs and to make coaching more accessible at different levels throughout the organisation. In our experience group coaching can be an excellent support for managers and employees who want to work on real time problem solving and offers a great way to drive higher levels of engagement through management change initiatives.
Key Elements of Effective Executive Coaching:
Many clients ask us how to ensure that they make the right decisions around implementing executive coaching solutions for business issues. We have put together the following list:
Get clear on your organisational strategy for executive coaching. Executive coaching works best when it is an integral part of the organisation culture. It needs to be strategically positioned with clear reasons or engagement and linked to other organisational components that tie the development directly to business strategy.
Internal versus external coaches. There is no one-size-fits-all answer to this question as every organisational culture is different and thus demands a unique approach. Some organisations are really well placed to offer internal coaches to inspire and develop executives whilst others would be better placed to bring in external coaches. Others use a combined approach. Ask yourself the following questions to discover what would work best in your organisation:

Do we have the budget to train/hire dedicated coaches internally?
Do potential staff have the time and interest to serve as internal coaches?
Are there any conflicts of interest which would prevent internal coaches effectively coaching others?
How would internal coaches be perceived in terms of credibility?
What value would an internal/external perspective bring to the coaching?
Make sure you select professionally trained coaches. International Coach Federation (ICF) is the leading organisation worldwide for the accreditation and certification of professional coaches. They include training on core competence areas with a strict code of ethics and professional conduct. In our experience this is a necessary minimum requirement for all coaches.
Allow coaching clients to select their own coach. In coaching the quality of relationship between coach and client defines the quality of results achieved in the coaching. It is important that all coaching clients are offered a selection of coaches to interview as it is essential that the client feels willing and able to form a development partnership with the client.
Make sure each coaching engagement is based on clear coaching objectives. The criteria for measuring the effectiveness of the coaching engagement needs to be clearly defined at the outset and should include defining demonstrable needs, a documented action plan and the alignment of individual goals to leadership and team execution.
Ensure coaching engagements are formally structured. While open ended coaching engagements appeal to higher levels within an organisation, coaching should not foster dependency. We recommend a beginning and an end date and include best practice elements such as a coaching contract, needs assessment, clear coaching objectives, action plan and measures of accountability.
Develop formal evaluation structures that support individual and organisational goals.  Both individual and group coaching needs to be measured against pre-existing standards and organisational measures. Key performance indicators are usually a tangible way to evaluate the impact of coaching.
Protect coachees by ensuring that all coaching follows a clearly defined code of ethics. Coaching must always be confidential. The coach's commitment must always be primarily to their coaching client to enable a deep and meaningful relationship to form. Individuals need to be bale to trust the confidential nature of the coaching relationship. A formal coaching contract provides a way to define agreement around different expectations which can exist within organisations including, logistics, etiquette, roles and responsibilities for stakeholders and management.
Make sure stakeholders are involved. Individuals don't perform in a vacuum, their performance impacts others on a daily basis. As such, others can provide critical input, support and accountability for coaching clients.
Integrate coaching into ongoing development and evaluation systems. In order for the coaching to be relevant on a daily basis for the coaching clients we recommend that coaching clients discuss the key outcomes of the coaching with their performance advisors to incorporate their coaching goals into their individual performance plans. These are important connections which maximize the value of the coaching program beyond the limits of a normal coaching engagement.
How long does it take before we see results?
While the coaching process is not intended to be a quick fix, the individual short term results are most often immediate for engaged individuals. Motivated leaders reflect on their hidden skills, enhance their problem analysis, and eventually become self correcting after only a few sessions.  In the long term, executive coaching not only improves staff retention, increases productivity and empowers the entire staff but ultimately also benefits the individual client.
Critical questions to think about:
What is the purpose of executive coaching?
How are individual behaviours measured and linked to business objectives?
How would you describe your current approach to executive development?
What Learning and Development strategies need integrating with a coaching approach?
Do you have a formalised database of staff, illustrating their skills, expertise and experience – What is your current level of capability within the organisation? What internal coaching capability do you have currently?
When is coaching the best development intervention?
What other learning needs have you identified within the organisation that could potentially be addressed with a coaching approach?
Do you have any mentoring processes in place?
Do you want an elite team of internal coaches?
How will you develop the senior team to embody the development message to the organisation?
What is the prevailing attitude within the organisation towards coaching? 
Will you be training management / supervisors as coaches?
What ROI do you want to achieve from your coaching interventions? How will you measure progress?
Who will be responsible for recruiting coaches?
What challenges do you envision for your organisation in the implementation of executive coaching?
What is important to you in your choice of service provider? Are you looking for a collaborative approach?
Anything else you think we should know…
Conclusion
Coaching can be a very powerful process for developing an organisations capability to perform and sustain competitive advantage. It needs to be approached with a real clarity of focus to demonstrate very tangible results for the business. These results come about by delivering high quality, consistent skills development and empowering a collaborative approach to supporting others in their journey to improved performance. If structured well, coaching is a very strong process to change behaviour and focus on performance issues.
If you are considering Executive Coaching as a development tool for your organisation you should also be aware that developing a coaching culture across the entire organisation can also bring many benefits. It is now highlighted as the most effective route to culture change and is an activity which is only expected to increase in the future.  Results are strong, indicating coaching as an effective process for increasing how leaders develop others and manage their performance. Knowledge is often more widely shared and utilised. Decision-making becomes more open, participative and transparent. Learning and development becomes viewed as a top priority, with less emphasis on making the numbers.
if this is of interest you may also benefit from our related brochure : Creating a Coaching Culture: the most potent organisational change process for creating a "high performance" culture.
At InnoChan Solutions we can help you decide if Executive Coaching is a valuable next step for you or your organisation:
Working collaboratively with HR and business leaders to define, plan, implement and evaluate the need for executive coaching
Provide a team of fully accredited, international, high integrity, professional executive coaches who can work at Senior Executive levels and throughout all levels of the organisation
Establishing the key drivers for executive coaching (through structured interviews, employee surveys and a variety of diagnostic tools)
Aligning and integrating coaching into business and L&D strategy defining a comprehensive ROI
Designing and implementing training programs in basic and advanced coaching skills – for both coaches, managers as coaches and coachees
Facilitating the Senior Executive Team & HR in Culture Change, Leadership and Advanced Coaching Skills
Assessing and developing an internal pool of professional coaches
Supervision and facilitation of reviews for coaching experience and practice
Supporting coaching with parallel programs in mentoring and leadership development as needed
Assessing and selecting external coaches against a competence framework
Transferring of skills to in-house trainers
Measuring progress towards achieving a coaching culture.
Contact Us today to discuss your individual Personal, Executive or Business requirements.